My husband has had this shirt for years, but never wears it because the fit is weird. This made it perfect for the Shirt Dress. Because the print was so masculine I paired it with a femmy aqua polka dot fabric.
I also had
major
problems with the neck/sleeves. I started this for my 4 year old and we could not get it over her head. So I ended up re-cutting it and making it for my 2 year old, Evangeline (
seen below
).
I will definitely try this again, but might take a cue from Kelli and cut the top straight across and then add straps. I am also going to raise the belt a bit more so it creates an empire waist.
I still LOVE the outcome of this one. I'm giving you two photo options....
Shirt Dress: Happy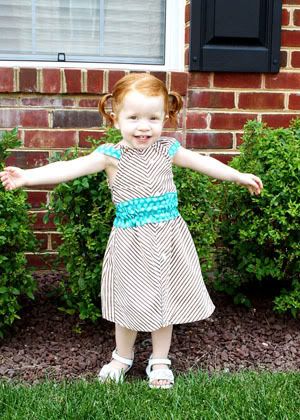 and Shirt Dress: Cranky

Those red-heads are a feisty group.

Thanks for the fun pattern!
I can't wait to experiment more!
.